This recent headline is from the US. Someone has developed an app that is designed to identify mushrooms in the wild using just a smartphone photo. [App no longer available – thank goodness!]
There is a growing trend for foraging apps but this one is just down right dangerous. However, a few are good.  In Denmark, a recent one is a comprehensive and free resource for the public to learn about and sustainably explore wild food. The initiative comprises an app in Danish and in English, a website, a curriculum for Danish schools, and foraging workshops offered by fifty rangers ("naturvejledere") across Denmark.
Roger Phillips is one of the world's leading mushroom specialists with over 40 years' of expertise of studying fungi in the wild. His excellent book 'Mushrooms', has sold more than 2 million copies worldwide. You can get an app version of the book [sadly no longer available], but rather getting the app to tell you what the mushroom is, you are lead through an electronic version of the key from the book. Lots of mushroom books have these, people are often unaware that they are in the book or haven't used them. They are easy to use and a really valuable tool – give them a go.
Keys are not just used for identifying mushrooms but also for wider species identification. They usually ask questions based on easily identifiable features. Dichotomous keys use questions to which there are only two answers. They can be presented as a table of questions, or as a branching tree of questions with one questions answer leading you to the next. Here is an example, okay not mushrooms, but it shows the principle.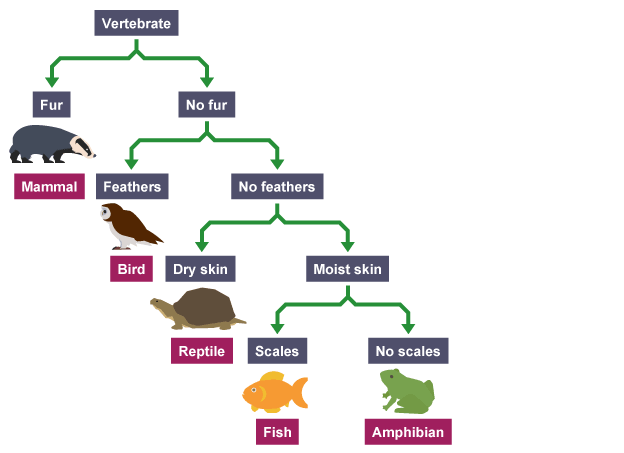 On our mushrooms day courses and walks we teach guests how to use keys. In fact, everyone who attends takes a turn at leading an identification. You start WITHOUT YOUR BOOKS / APP – with observation about the surroundings – habitat, trees etc., then examination of the specimen – cap, spores (including colour), gills, / tubes (pores) / spines, ring, stem, colour changes, smell etc. Then you use your key, before checking the answer with pictures or descriptions in several other sources too. Does it all agree? Note you shouldn't trust every mushroom photo caption on the web as accurate!
Yes, identifying mushrooms can be difficult. Individuals of the same species will vary with age and the weather, but a key makes the task a lot easier, far better than flicking though the pictures looking for one that looks right. Give them a go.